Why You Should Consider Unplugging Your Wedding Ceremony
With everything else you have to plan we know how tempting it can be to just rely on friends and family for photos of your wedding. But looking back we know you will wish you had booked a professional photographer to capture your special day.  While friends and family may seem like a good option, they don't have the experience and high-end equipment that a professional has to capture all of those WOW moments. Plus you want them to be able to enjoy the day with you! 
Have you considered 'unplugging' your ceremony? It's a great way to encourage your guests to put their phones away and be there in the moment with you. Keep reading for our top three reasons why you should consider unplugging your wedding ceremony!
1. Encourage Your Guests To Be Fully Present.
We know how attached everyone is to their digital devices, and an unplugged ceremony is a great way to encourage your guests to sit back, relax and  be fully present! Ask that they put them on silent and keep their phones in their pockets or bags during the ceremony.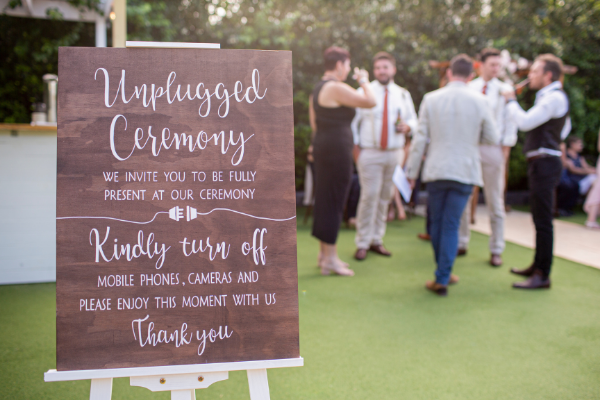 2. You Get To Decide Where And When You Share Your Photos.
You don't want your Aunt to share blurry, out of focus photos of your big day before you get the chance to even update your relationship status to 'Married'. By having an unplugged ceremony you ensure that you get to share the images you love with everyone at a time of you choosing.
3. No Distractions. No Pesky Flashes or Interruptions.
Trust that your professional photographer has you covered! They have years of experience and know the right lighting, angles, and parts of the ceremony to get those WOW shots. That way you don't have to worry about annoying flashes, and sounds from all the various devices going off. Plus who wants photos of  loved ones with their phones in front of their faces? Wouldn't you much rather photos of them looking on smiling? We know we would!
Are you having an unplugged ceremony? Why not have an amazing professional photographer there to capture every moment beautifully and candidly? Check availability for your date here.